"Next Time I Move, They'll Carry Me Out in a Box"  by Michele Wojciechowski
National Award-Winning Book (American Society of Journalists and Authors, Lifestyle/Memoir category at The 2013 Book Awards)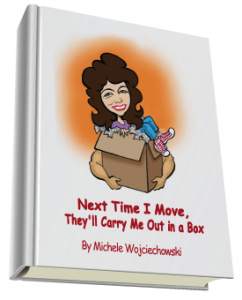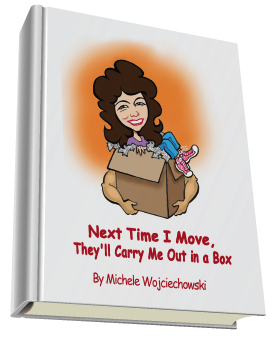 If war is hell, moving is a close second. 
That is what my husband and I discovered when we accidentally stumbled upon our dream home, impulsively decided to sell our home, and get caught up in the craziest move of a lifetime.
You'll laugh out loud as you learn:
How to get your house on the market looking "livable" but not "lived in"

How to endure get-out-of-the-house-so-it-can-be-shown weekends
How to cultivate a love for cleaning supplies like the Magic Eraser
And, how to survive the actual hellish act of relocating yourself…and all of your stuff
Available in paperback, in-store at Greetings and Readings, The Ivy Bookshop,  Cape Atlantic Book Company, The Village Gem, and at The East County Times business office.
Also available in paperback, and e-book at Amazon.com, Barnes & Noble.com, and Smashwords.com