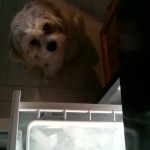 By Michele Wojciechowski on June 3, 2014
Like every other dog I've ever had or met, Riley loves treats. But just as much as he loves treats, Riley loves something else: ice cubes. You might think that a treat, which is made with chicken or beef or veggies of some sort would be much more appealing. But no. Not for this pup. […]
Posted in My Life With Riley | Tagged asleep, Baltimore, Baltimore Maryland, Baltimore MD, beef, billowing, blue cold packs, chicken, cold, cold packs, comedy, cool, dead to the world, dinner, dog, dog treat, dog treats, dogs, drawer, Einstein, food, food bowl, freezer, Funny, fur, happiness, Humor, humour, husband, ice, ice cube, ice cubes, Ice Ice Doggie, joy, kitchen, lunch, lunch box, lunch container, Maryland, Michele Wojciechowski, Michele Wojo, My Life With Riley, pup, Puppy, Riley, smell, treats, veggies, wojo, Wojo's World, Wojo's World. humor, zipper | 4 Responses
By Michele Wojciechowski on October 24, 2013
Halloween is almost here. My husband and I have noticed that in the last few years we've been getting quite a lot of—ahem–older trick-or-treaters. Like practically college age. So we've come up with some more rules this year that we'd like the kids to follow.
Posted in Columns | Tagged Baltimore, Baltimore Maryland, Baltimore MD, Barry White, blue plastic bags, Brady Bunch, candy, car insurance, car soaped, chocolate, college, college age, comedy, drive, egged, egged house, floozie, football, Funny, gas, google, gown, Halloween, high school, Holiday, holidays, house egged, Humor, humour, job, kids, Michele Wojciechowski, Michele Wojo, Peter Brady, pillowcases, princess, prom, Ravens, rules, seniors, Shaquille O'Neal, shave, slut, soaped car, SUV, teenaged girl, teenager, The Brady Bunch, Time to change, treats, Trick or Treat, trick or treaters, Trick Or Treating, Trick or Treating The Rules, whore, wimps, wojo, Wojo's World, Wojo's World. humor, world's oldest profession | 1 Response
By Michele Wojciechowski on April 17, 2010
For at least the past decade, I've been at the age where lots of my friends have children.  And one of my favorite experiences to have with them is to talk on the phone. I'm serious.  I'm not being a smart aleck.
Posted in Columns | Tagged children, comedy, dogs, friends, friends kids, Funny, funny phone calls, Humor, kids, mascara, Michele Wojciechowski, Michele Wojo, Mom, mom's on the phone, moms, phone calls, phone calls to friends, splashing, toilet, toilet lock, treats, wojo, Wojo's World, Wojo's World. humor