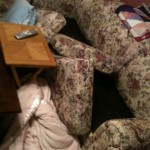 By Michele Wojciechowski on June 8, 2014
For the most part, Riley is a happy dog. He runs around all the time. If he had the ability to play 24/7, he would.
Posted in My Life With Riley | Tagged 24/7, action, all by myself, anger, attitude, Baltimore, Baltimore Maryland, Baltimore MD, being angry, bothering, cam, caught, chew, chewing, close, comedy, cop, cop an attitude, couch, crate, cushions, desk, destroying, dog, doggy, downstairs, favorite, fine by us, fling, flings, force, Funny, furniture, grateful, happiness, happy, Humor, humour, in action, in the act, in your face, joke, joy, leave, living room, love, love seat, loves, loveseat, Mad, mad dog, marks, Maryland, message, Michele Wojciechowski, Michele Wojo, My Life With Riley, passed, play, poop, pooping, problem, proud, proudly, Puppy, Riley, shoes, sign, spots, stern, sternly, stinker, teeth, ticked, ton, total, upstairs, wagging, wojo, Wojo's World, Wojo's World. humor, writing | Leave a response
By Michele Wojciechowski on March 27, 2014
They say that the most important part of every relationship is the ability to communicate. Obviously, "they" have never been to my home.
Posted in Columns | Tagged Baltimore, Baltimore Maryland, Baltimore MD, beep, beeps, Ben & Jerry's, broccoli, car, carrot, carrots, comedy, communicate, crazy, cues, earplugs, electronics, fast food, female, food, Funny, game show, game shows, groceries, grocery, grocery store, hands, house, Humor, humour, husband, icepick, inanimate, inanimated conversations, kitchen, lettuce, Marge, Maryland, Michele Wojciechowski, Michele Wojo, Mickey D's, microwave, milk, prize, problem, problems, relationship, shopping, sports, stats, veggies, washing, wojo, Wojo's World, Wojo's World. humor, yelling, yogurt | Leave a response