Browse:
Home
/
Parade Magazine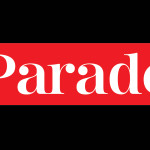 By Michele Wojciechowski on November 11, 2015
Even though I would gladly have a marching band follow me around wherever I go (especially on my birthday or a special occasion), that is not what this page is about. I have been a regular contributor to Parade.com  (the online companion to Parade Magazine, found in most Sunday papers), writing about funny celebrities, people in […]
Posted in Uncategorized | Tagged Baltimore, Baltimore Maryland, Baltimore MD, birthday, celebrities, celebrity, column, comedy, comedy world, Funny, funny things, Humor, humour, links, marching band, Michele Wojciechowski, Michele Wojo, occasion, Parade Magazine, Parade.com, posted, stories, Welcome, wojo, Wojo on Parade.com, Wojo's World, Wojo's World. humor
By Michele Wojciechowski on November 5, 2015
The Washington Times interviewed Wojo about her delinquency in returning Mary Shelley's Frankenstein. Read the article here: Baltimore writer returns overdue library book 34 years late.
Posted in Wojo In The News | Tagged 1981, 2013, accountant, American Society of Journalists & Authors, American Society of Journalists and Authors, Anchor Branch, ASJA, author, Baltimore, Baltimore Maryland, Baltimore MD, Berger cookies, bio, biographies, biography, book, books, Boys' Life, Catholic, child, collector, column, comedy, comic book, comic books, crabs, Enoch Pratt Free Public Library, Eric Althoff, Frankenstein, Funny, graphic novel, guilt, Hail Mary, Harbor Tunnel, hardcover, heaven, Highlandtown, Highlandtown Library, Highlandtown public library, Horror, Humor, humour, husband, kids, L.A. Times Magazine, LA Times, library, Lost Ark, Lynne Distance, magazine, Mary Shelley, Mary Shelley's Frankenstein, Maryland, mayor, Michele Wojciechowski, Michele Wojo, Mom, mother, mysteries, mystery, Next Time I Move They'll Carry Me Out in a Box, Next Time I Move They'll Carry Me Out in a Box book, Ocean City, Orioles, Our Father, outstanding, Outstanding Book Award, overdue, paperback, Parade, Parade Magazine, Parade.com, penance, potato chips, President, Ravens, read, reading, Ronald Reagan, softcover, Southeast Anchor Library, The Washington Times, Utz, Washington Times, Water Taxi, William Donald Schaefer, wojo, Wojo's World, Wojo's World. humor