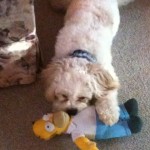 By Michele Wojciechowski on June 7, 2014
Riley hadn't gotten a new toy recently. So he decided to find one on his own. We had a Homer Simpson stuffed doll lying on the kitchen table. One of us had found it while cleaning out the basement. My husband decided that he wanted to keep it. He likes The Simpsons, and I had […]
Posted in My Life With Riley | Tagged arms, Baltimore, Baltimore Maryland, Baltimore MD, basement, Better Homes and Gardens, challenges, chest, clean, cleaning, comedy, crime, crime scene, CSI, D'oh!, destruction, discovery, dog, dog father, dogs, doll, evidence, face, father, fingerprints, Funny, grown, Hershey, Hershey Park, hit, Homer, Homer Simpson, house, Humor, humour, investigate, joy, kitchen, learn, living, living room, Maryland, Michele Wojciechowski, Michele Wojo, mob, mob hit, mouth, My Life With Riley, photos, pup, Puppy, pure, pure joy, reach, Riley, room, scene, short, Simpson, skee ball, skeeball, stuffed, stuffing, Summer, table, tabletop, The Simpsons, toy, wojo, Wojo's World, Wojo's World. humor | 1 Response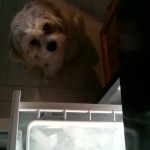 By Michele Wojciechowski on June 3, 2014
Like every other dog I've ever had or met, Riley loves treats. But just as much as he loves treats, Riley loves something else: ice cubes. You might think that a treat, which is made with chicken or beef or veggies of some sort would be much more appealing. But no. Not for this pup. […]
Posted in My Life With Riley | Tagged asleep, Baltimore, Baltimore Maryland, Baltimore MD, beef, billowing, blue cold packs, chicken, cold, cold packs, comedy, cool, dead to the world, dinner, dog, dog treat, dog treats, dogs, drawer, Einstein, food, food bowl, freezer, Funny, fur, happiness, Humor, humour, husband, ice, ice cube, ice cubes, Ice Ice Doggie, joy, kitchen, lunch, lunch box, lunch container, Maryland, Michele Wojciechowski, Michele Wojo, My Life With Riley, pup, Puppy, Riley, smell, treats, veggies, wojo, Wojo's World, Wojo's World. humor, zipper | 4 Responses
By Michele Wojciechowski on March 27, 2014
They say that the most important part of every relationship is the ability to communicate. Obviously, "they" have never been to my home.
Posted in Columns | Tagged Baltimore, Baltimore Maryland, Baltimore MD, beep, beeps, Ben & Jerry's, broccoli, car, carrot, carrots, comedy, communicate, crazy, cues, earplugs, electronics, fast food, female, food, Funny, game show, game shows, groceries, grocery, grocery store, hands, house, Humor, humour, husband, icepick, inanimate, inanimated conversations, kitchen, lettuce, Marge, Maryland, Michele Wojciechowski, Michele Wojo, Mickey D's, microwave, milk, prize, problem, problems, relationship, shopping, sports, stats, veggies, washing, wojo, Wojo's World, Wojo's World. humor, yelling, yogurt
By Michele Wojciechowski on November 21, 2013
Dear Readers—I know you're out there, and sometimes I even hear from you. Such was the case when Essex resident Howard Sheckells wrote to me. He suggested a column topic that hits close to home for everyone—especially if you'll be heading to the grocery store to shop for Thanksgiving dinner.
Posted in Columns | Tagged abacus, air, algebra, baking, Baltimore, Baltimore Maryland, Baltimore MD, cake doctor, cake mix, cake mixes, calculator, calculus, can tuna, cereal, chili, Christmas, cold, comedy, cookbook, cooking, crab meat, crabby, cranberry, diet, double batch, Essex, Essex MD, food, Funny, gas station, grandmother, grilled cheese, grocery, grocery store, half gallon, height, high school, Holiday, holidays, Howard Sheckells, Humor, humour, husband, ice cream, ingredients, jellied cranberry sauce, kidney bean, kidney beans, kitchen, kitchen table, length, lunch, math, Michele Wojciechowski, Michele Wojo, Mom, mother-in-law, NASA, obese, playset, potato chips, price, quart, recipe, recipes, rocket scientist, Saturday, sauce, shopping, smartphone, table, teachers, Thanksgiving, Thanksgiving dinner, The Incredible Shrinking Groceries, thinner, tires, tomato soup, trigonometry, tuna, width, Winter, wojo, Wojo's World, Wojo's World. humor
By Michele Wojciechowski on April 12, 2013
My husband, Brad, and I are pretty good about knowing our strengths and our weaknesses. I'm not a good singer. At all. You don't want me singing at your wedding—unless, that is, you want to drive everyone out of the church or ceremony holding their ears and screaming. Brad is not a fan of public […]
Posted in Columns | Tagged baguette, balancing the checkbook, Baltimore, Baltimore Maryland, Baltimore MD, Brad, cartoon, cartoon voices, ceremony, chore, chores, church, desert, dying, ears, firing squad, five-second rule, food, Forrest Gump, Funny, garage, garden, grocery, grocery store, hardware store, holding their ears, Humor, humour, husband, impressions, kitchen, logical, mall, married, math, Michele Wojciechowski, Michele Wojo, mimicking, movies, mule, pack mule, paper bags, plastic bags, projectile, public speaking, reality show, reusable bags, rocket, screaming, shopping, singer, singing, smart, strength, strengths, stubborn, stubborn as a mule, stupid, townhome, trips, trunk, unpack, warehouse club, weakness, weaknesses, wedding, wojo, Wojo's World, Wojo's World. humor
By Michele Wojciechowski on December 6, 2012
When we envision the holiday season, we tend to think of beautiful, twinkling lights, sumptuous meals shared with family and friends, and days filled with love, happiness, and joy. And if you're stuck in a Normal Rockwell painting, that's exactly what it's like. While the holidays have a ton of great times, let's face it—it's […]
Posted in Columns | Tagged appearance, Baron's, Baron's K9, Baron's K9 Country Store, bathroom, book, book siging, books, books as gifts, books as presents, carpet, carpeting, cat, Cher, Christmas, Christmas lights, Christmas tree, countertops, December, December 15, December 15 2012, December 2012, dog, family photos, Funny, funny books as gifts, funny books as presents, funny tips, gardening shears, Gold Heart, Gold Heart Golden Retriever Rescue, goldfish, GoldHeart, GoldHeart Golden Retriever Rescue, haircut, Holiday, holiday pictures, holiday tips, holidays, home improvement, home improvement projects, Humor, humor books as gifts, humour, humour book as presents, humour books as gifts, kitchen, kitchen floor, learning experience, lights, living room, Michele Wojciechowski, Michele Wojo, mistake, mistakes, Moonstruck, Nicholas Cage, Norman Rockwell, Norman Rockwell painting, ornaments, paint, Pet picture with Santa, pets, photos, pictures with Santa, places to go, presents, Rockwell, Rockwell painting, sanity, Santa, stress, stress busters, stress reducer, stress reducers, stylist, surviving Christmas, surviving the holidays, things to do, tips, tree, tree lights, Wojo's World, wojosworld.com | 1 Response
By Michele Wojciechowski on October 12, 2012
When you read this title, did you think I was going to write all about the former grocery store chain, Pantry Pride? Well, I'm not. This week's tale is about the pride I can finally take in my pantry. Yes, this is how pathetic my life is. I'm excited about the fact that I organized […]
Posted in Columns | Tagged canned goods, canned items, Coke, expiration dates, Funny, groceries, houshold project, Humor, kitchen, Michele Wojciechowsk, Michele Wojo, organization, pantry, Pantry Pride, soda, wojo, Wojo's World, Wojo'sWorld