Browse:
Home
/
kitchen table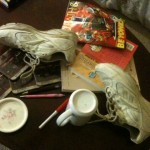 By Michele Wojciechowski on June 4, 2014
As you can tell by past posts, Riley is an, um, unusual puppy. And just one of the different and cute things he does is that he plays Santa year 'round with my stepdad. How does he do this? Well, for some reason unknown to us, Riley loves to carry items from throughout the house […]
Posted in My Life With Riley | Tagged $20 bill, ad, advertising circular, Baltimore, Baltimore Maryland, Baltimore MD, beef, bill, blanket, book, caffeine, ceramic coffee mug, ceramic mug, chew, Christmas, christmas ornament, coasters, coffee mug, comedy, consignment shop, couch, couch pillows, coupons, cute, decorative fan, decorative victorian fan, dog, dogs, Funny, gift, gifts, grande, grandpa, Holiday, holy grail, house, Humor, humour, jerky, kitchen table, latte, living room, living room table, Michele Wojciechowski, Michele Wojo, mocha, money, My Life With Riley, Our Own Little Furry Santa, pens, pillows, play santa, presents, Puppy, recipes, Riley, Santa, scissors, screwdriver, shoes, sneaky, step father, stepdad, stepfather, twenty dollar bill, victorian fan, wojo, Wojo's World, Wojo's World. humor | 1 Response
By Michele Wojciechowski on November 21, 2013
Dear Readers—I know you're out there, and sometimes I even hear from you. Such was the case when Essex resident Howard Sheckells wrote to me. He suggested a column topic that hits close to home for everyone—especially if you'll be heading to the grocery store to shop for Thanksgiving dinner.
Posted in Columns | Tagged abacus, air, algebra, baking, Baltimore, Baltimore Maryland, Baltimore MD, cake doctor, cake mix, cake mixes, calculator, calculus, can tuna, cereal, chili, Christmas, cold, comedy, cookbook, cooking, crab meat, crabby, cranberry, diet, double batch, Essex, Essex MD, food, Funny, gas station, grandmother, grilled cheese, grocery, grocery store, half gallon, height, high school, Holiday, holidays, Howard Sheckells, Humor, humour, husband, ice cream, ingredients, jellied cranberry sauce, kidney bean, kidney beans, kitchen, kitchen table, length, lunch, math, Michele Wojciechowski, Michele Wojo, Mom, mother-in-law, NASA, obese, playset, potato chips, price, quart, recipe, recipes, rocket scientist, Saturday, sauce, shopping, smartphone, table, teachers, Thanksgiving, Thanksgiving dinner, The Incredible Shrinking Groceries, thinner, tires, tomato soup, trigonometry, tuna, width, Winter, wojo, Wojo's World, Wojo's World. humor