By Michele Wojciechowski on March 26, 2015
Over the years, I have been becoming more and more of a sports fan. I've always loved baseball, and I enjoy indoor soccer. Nearly seven years ago, I became a true blue football fan. But basketball?
Posted in Columns | Tagged 143, Abbey, Arizona, associate, Baltimore, Baltimore Maryland, Baltimore MD, band, baseball, basketball, Bombeck, book, book signing, books, bracket, brackets, British, Buffalo, Butler, Carson, character, chicken, choosing, Cincinnatti, coach, colleagues, college, column, comedy, Dayton, Downton, Downton Abbey, Drew Forrester, DrewsMorningDish.com, Duke, Erma, Erma Bombeck, facts, faculty, fan, favorite, film, Fiona, football, Fred, free, friend, friends, fun, Funny, Geln Campbell, Goo Goo Dolls, graduate, great, guy, Hampton, HBO, head, home, Humor, humorist, humour, husband, I love you, Indiana, Indiana Jones, indoor soccer, Johnny Rzeznik, karma, Kentucky, Lafayette, laugh, laughing, lead, lead singer, liked, likes, local, madness, March, March Madness, Marquette University, Maryland, memory, method, Michele Wojciechowski, Michele Wojo, Midwest, movie, NCAA, newsletter, Northeastern, Notre Dame, office, personality, points, prizes, pronounce, Providence, Purdue, quotes, rationale, Rudy, school, score, season, series, show, singer, soccer, speak, sports, Steve Wojciechowski, teams, Texas, The Method of my Madness, tie, True Blood, try, uniform, uniforms, United States, University of Dayton, Valparaiso, videos, Villanova, Virginia, West, Wichita, Wichita Lineman, Wichita St, win, wojo, Wojo's World, Wojo's World. humor, Wojo@WojosWorld.com, woman, work, works, writers' workshop | 1 Response
By Michele Wojciechowski on August 14, 2014
We all have various roles in life. For me, I'm a wife, friend, relative, writer, helper…the list could go on and on. I'm also a member of the Grammar Police. I can't help it. Working as a writer has made me see grammar errors as glaring mistakes in the history of humankind. Or at least […]
Posted in Columns | Tagged absolute, absolutely, acceptable, annoy, annoys, author, authors, Baltimore, Baltimore Maryland, Baltimore MD, barrier, book, boss, bug, chained, clean, cold, column, columns, comprehend, comprehending, compress, correct, desk, devastation, dictionary, disaster, dog, double, drove, edit, editing, enter, entire, error, errors, exaggerate, exaggeration, explode, faint, fast, favorite, favorites, figuratively, format, friends, Funny, genetic, grammar, grammar police, grammarian, grammarians, grammatical, happen, happened, head, history, humankind, Humor, humour, hyperbole, i'm so hungry i could eat a horse, i'm so hungry i could literally eat a horse, incorrect, inherit, inherited, insight, it's, It's the End of the World as We Know It, itself, key, laughs, lesson, lever, library, life, limits, listen, literally, loath, loathed, Maryland, Merriam Webster, Michele Wojciechowski, Michele Wojo, Mom, monthly, negative, negatives, newsletter, occurred, over the edgs, pen, perfect, perfectly, police, real, really, report, return, run on sentence, run on sentences, sentence, shenanigans, sound, stat, stuff, title, truly, twice monthly, typewriter, William Faulkner, willy nilly, wojo, Wojo's World, Wojo's World. humor, wondering, working, writer, wrong | 1 Response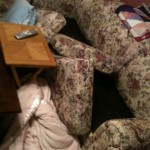 By Michele Wojciechowski on June 8, 2014
For the most part, Riley is a happy dog. He runs around all the time. If he had the ability to play 24/7, he would.
Posted in My Life With Riley | Tagged 24/7, action, all by myself, anger, attitude, Baltimore, Baltimore Maryland, Baltimore MD, being angry, bothering, cam, caught, chew, chewing, close, comedy, cop, cop an attitude, couch, crate, cushions, desk, destroying, dog, doggy, downstairs, favorite, fine by us, fling, flings, force, Funny, furniture, grateful, happiness, happy, Humor, humour, in action, in the act, in your face, joke, joy, leave, living room, love, love seat, loves, loveseat, Mad, mad dog, marks, Maryland, message, Michele Wojciechowski, Michele Wojo, My Life With Riley, passed, play, poop, pooping, problem, proud, proudly, Puppy, Riley, shoes, sign, spots, stern, sternly, stinker, teeth, ticked, ton, total, upstairs, wagging, wojo, Wojo's World, Wojo's World. humor, writing