By Michele Wojciechowski on October 9, 2014
Everyone has fears. Some people are afraid of snakes (not me). Or public speaking (not me, again). Or going to the dentist (still not me…oh, wait).
Posted in Columns | Tagged 24/7, adult, amazed, appointment, attributes, Baltimore, Baltimore Maryland, Baltimore MD, Beautiful, beautiful friendship, blind date, boy, card, care, chisel, chiseled, column, comedy, consultation, convince, convinced, cotton, credentials, decades, dental, dental practice, dentist, dentistry, different, disease, doctor, Dr. Lincoln Frank, earth, emergency, experience, fear, fears, filling out forms, finding a new dentist, fine, floss, flossing, forms, freaking out, free, friends, Funny, future, God, God was a boy, grieved, gum, gums, hands, high school, Hopkins, hugged, Humor, humour, husband, instruments, insurance, internet, involved, kid, kind, list, little, long term relationship, love, lucky, machine, Maryland, mess, Michele Wojciechowski, Michele Wojo, mouth, must haves, nervous, nice, nurse, office, old, old and gray, opinion, opinions, oral, patient, picky, practice, public, public speaking, question, records, residency, retire, retiring, scared, screen, selective, smart, smitten, snakes, social media, speaking, staff, stone, tablets, teeth, The tooth the whole tooth and nothing but the tooth, upset, website, websites, wife, wojo, Wojo's World, Wojo's World. humor, work, x-ray, x-rays, xray, xrays, younger | 2 Responses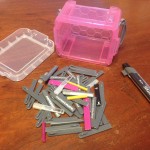 By Michele Wojciechowski on April 24, 2014
There's a saying that the definition of insanity is doing the same thing over and over again and expecting a different result. Well, color me crazy. You know those clippy things on pens and mechanical pencils that allow you to clip them to your shirt pocket? Did you know that they have a name?
Posted in Columns | Tagged 12 step, angry, attacked, average, averages, bad habit, Baltimore, Baltimore Maryland, Baltimore MD, bed, big, brand new, break, breaking a bad habit, chew, clip, comedy, computer, container, couch, coworker, curse, day, daydream, deal, definition, desk, different, doing the same thing over and over, everything, expecting a different result, face, Fall, fanily, folks, friend, Funny, grand, group, guilty, habit, hangs, head, Humor, humour, husband, ink, insanity, keeping track, know, lead, Mad, Maryland, mechanical pencil, Michele Wojciechowski, Michele Wojo, mr., new, newspaper, pen, pencils, pens, phone, plastic, pocket, program, proud, result, room, saying, scheme, see through, shame, shirt, sleep, snap, snapped, snapping, the definition of insanity, twirling, two, week, wojo, Wojo's World, Wojo's World. humor, wolves, worked, writing, writing omplement | 2 Responses