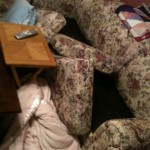 By Michele Wojciechowski on June 8, 2014
For the most part, Riley is a happy dog. He runs around all the time. If he had the ability to play 24/7, he would.
Posted in My Life With Riley | Tagged 24/7, action, all by myself, anger, attitude, Baltimore, Baltimore Maryland, Baltimore MD, being angry, bothering, cam, caught, chew, chewing, close, comedy, cop, cop an attitude, couch, crate, cushions, desk, destroying, dog, doggy, downstairs, favorite, fine by us, fling, flings, force, Funny, furniture, grateful, happiness, happy, Humor, humour, in action, in the act, in your face, joke, joy, leave, living room, love, love seat, loves, loveseat, Mad, mad dog, marks, Maryland, message, Michele Wojciechowski, Michele Wojo, My Life With Riley, passed, play, poop, pooping, problem, proud, proudly, Puppy, Riley, shoes, sign, spots, stern, sternly, stinker, teeth, ticked, ton, total, upstairs, wagging, wojo, Wojo's World, Wojo's World. humor, writing
By Michele Wojciechowski on November 10, 2011
A few years ago, when gas prices were out the roof, I was naïve. I thought that it wouldn't happen again — at least not so soon. As prices inch to $4 per gallon and more, I find myself longing for the days of $3 gas. How nuts is that?
Posted in Columns | Tagged American gas prices, cop, England, Europe, Funny, gas, gas crisis, gasoline, gasoline prices, Hawaii, homemade ice cream, honeymoon, Humor, hybrid car, ice cream, life of crime, Michele Wojciechowski, Michele Wojo, Nobel Prize, public transportation, Red Cross, rolling pennies, saving gas, sell blood, steal gas, taking gas, Thrifty Wise, wojo, Wojo's World, Wojo's World. humor