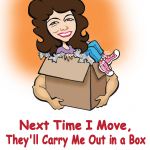 By Michele Wojciechowski on December 1, 2015
CYBER MONDAY CONTINUES THROUGH DECEMBER 6TH!!! Super specials on my book "Next Time I Move, They'll Carry Me Out in a Box" (E-Book for NOOK or KINDLE, or for autographed soft-cover copies)! Follow the links or instructions below! For NOOK, only 99 cents each! Click here! For the Kindle, also only 99 cents each! Follow this […]
Posted in Book News | Tagged 2015, Baltimore, Baltimore Maryland, Baltimore MD, book, books, Christmas, Christmas shopping, comedy, cyber monday, December, December 6, December 6 2015, Funny, Holiday, holidays, Humor, Michele Wojciechowski, Michele Wojo, newsletter, Next Time I Move They'll Carry Me Out in a Box, Next Time I Move They'll Carry Me Out in a Box book, wojo, Wojo's World, Wojo's World. humor
By Michele Wojciechowski on November 5, 2015
Wojo and her extremely past due library book is highlighted here in the ABC News post "Maryland Woman Returns Library Book 34 Years Past Due."
Posted in Wojo In The News | Tagged ABC, ABC News, ABCNews.Go.com, accountant, adapted, Alice & Joel Schick, Alice and Joel Schick, Alice Schick, Baltimore, Baltimore Maryland, Baltimore MD, book, books, Brewer's Hill. husband, comedy, director of communications, Enoch Pratt, Enoch Pratt Free Library, Enoch Pratt Free Public Library, Frankenstein, Funny, Highlandtown, home, house, Humor, humour, husband, illustrated, Joel Schick, Kingsville Maryland, Kingsville MD, library book, Lynne Distance, Mary Shelley, Mary Shelley's Frankenstein, Maryland, MD. Maryland, Michele Wojciechowski, Michele Wojo, Mom, Next Time I Move They'll Carry Me Out in a Box, Next Time I Move They'll Carry Me Out in a Box book, overdue, past due, Roswell Encina, Southeast Anchor, Southeast Anchor Branch, Susanna Kim, teenager, wojo, Wojo's World, Wojo's World. humor
By Michele Wojciechowski on November 5, 2015
The Washington Times interviewed Wojo about her delinquency in returning Mary Shelley's Frankenstein. Read the article here: Baltimore writer returns overdue library book 34 years late.
Posted in Wojo In The News | Tagged 1981, 2013, accountant, American Society of Journalists & Authors, American Society of Journalists and Authors, Anchor Branch, ASJA, author, Baltimore, Baltimore Maryland, Baltimore MD, Berger cookies, bio, biographies, biography, book, books, Boys' Life, Catholic, child, collector, column, comedy, comic book, comic books, crabs, Enoch Pratt Free Public Library, Eric Althoff, Frankenstein, Funny, graphic novel, guilt, Hail Mary, Harbor Tunnel, hardcover, heaven, Highlandtown, Highlandtown Library, Highlandtown public library, Horror, Humor, humour, husband, kids, L.A. Times Magazine, LA Times, library, Lost Ark, Lynne Distance, magazine, Mary Shelley, Mary Shelley's Frankenstein, Maryland, mayor, Michele Wojciechowski, Michele Wojo, Mom, mother, mysteries, mystery, Next Time I Move They'll Carry Me Out in a Box, Next Time I Move They'll Carry Me Out in a Box book, Ocean City, Orioles, Our Father, outstanding, Outstanding Book Award, overdue, paperback, Parade, Parade Magazine, Parade.com, penance, potato chips, President, Ravens, read, reading, Ronald Reagan, softcover, Southeast Anchor Library, The Washington Times, Utz, Washington Times, Water Taxi, William Donald Schaefer, wojo, Wojo's World, Wojo's World. humor
By Michele Wojciechowski on March 26, 2015
Over the years, I have been becoming more and more of a sports fan. I've always loved baseball, and I enjoy indoor soccer. Nearly seven years ago, I became a true blue football fan. But basketball?
Posted in Columns | Tagged 143, Abbey, Arizona, associate, Baltimore, Baltimore Maryland, Baltimore MD, band, baseball, basketball, Bombeck, book, book signing, books, bracket, brackets, British, Buffalo, Butler, Carson, character, chicken, choosing, Cincinnatti, coach, colleagues, college, column, comedy, Dayton, Downton, Downton Abbey, Drew Forrester, DrewsMorningDish.com, Duke, Erma, Erma Bombeck, facts, faculty, fan, favorite, film, Fiona, football, Fred, free, friend, friends, fun, Funny, Geln Campbell, Goo Goo Dolls, graduate, great, guy, Hampton, HBO, head, home, Humor, humorist, humour, husband, I love you, Indiana, Indiana Jones, indoor soccer, Johnny Rzeznik, karma, Kentucky, Lafayette, laugh, laughing, lead, lead singer, liked, likes, local, madness, March, March Madness, Marquette University, Maryland, memory, method, Michele Wojciechowski, Michele Wojo, Midwest, movie, NCAA, newsletter, Northeastern, Notre Dame, office, personality, points, prizes, pronounce, Providence, Purdue, quotes, rationale, Rudy, school, score, season, series, show, singer, soccer, speak, sports, Steve Wojciechowski, teams, Texas, The Method of my Madness, tie, True Blood, try, uniform, uniforms, United States, University of Dayton, Valparaiso, videos, Villanova, Virginia, West, Wichita, Wichita Lineman, Wichita St, win, wojo, Wojo's World, Wojo's World. humor, Wojo@WojosWorld.com, woman, work, works, writers' workshop | 1 Response
By Michele Wojciechowski on October 10, 2014
JUST ANNOUNCED! Wojo has been confirmed for a book-signing at Ukazoo Books in Towson, MD. She will be signing copies of her award-winning humor book "Next Time I Move, They'll Carry Me Out in a Box." WHEN: Saturday, October 25, 2014 WHERE: Ukazoo Books,  730 Dulaney Valley Road,  Towson MD, PHONE: 410-832-2665 TIME: 1pm – […]
Posted in Book News, Events | Tagged 10-25-14, 10-25-2014, 10/25/14, 10/25/2014, 1pm, 2014, 25, 410-832-2665, 4pm, 730 Dulaney Valley Rd, 730 Dulaney Valley Road, appearance, appearances, Award, Baltimore, Baltimore Maryland, Baltimore MD, book, book signing, book signings, books, Christmas, Christmas shopping, comedy, Funny, gifts, Holiday, holidays, Humor, humour, Maryland, Michele Wojciechowski, Michele Wojo, Next Time I Move They'll Carry Me Out in a Box, Next Time I Move They'll Carry Me Out in a Box book, October, October 25, October 25 2014, phone, presents, Saturday, shopping, things to do, Towson, Towson MD, Ukazoo, Ukazoo Books, winning, wojo, Wojo's World, Wojo's World. humor
By Michele Wojciechowski on September 25, 2014
THUNK! That used to be the sound we would hear when the delivery man would plunk down two huge phone books on our front steps—the white pages and the yellow pages. We used them all the time. As the internet has become so important in our daily lives, I haven't used one of those phone […]
Posted in Columns | Tagged adult, Baltimore, Baltimore Maryland, Baltimore MD, book, books, business, car seat, cell phone, column, comedy, computer, computers, dashboard, delivered, delivery, dictionary, down the toilet, encyclopedia, eyes, eyesight, face, Funny, giant, gnat, head, huge, Humor, humour, important, internet, ladies, laughs, let your fingers do the walking, lives, man, Maryland, Michele Wojciechowski, Michele Wojo, monthly, newsletter, number, old, phone, phone book, phone books, police, remember, rolodex, screen, search, shopping, size, small, smart, Smart Phone, smartphone, sound, squinting, steps, strength, suspect, swipe, television, The Big Yellow Book, the white pages, the yellow pages, threaten, tiny, toilet, TV, twice monthly, villagers, vision, white pages, wojo, Wojo's World, Wojo's World. humor, yellow pages | 1 Response
By Michele Wojciechowski on August 14, 2014
We all have various roles in life. For me, I'm a wife, friend, relative, writer, helper…the list could go on and on. I'm also a member of the Grammar Police. I can't help it. Working as a writer has made me see grammar errors as glaring mistakes in the history of humankind. Or at least […]
Posted in Columns | Tagged absolute, absolutely, acceptable, annoy, annoys, author, authors, Baltimore, Baltimore Maryland, Baltimore MD, barrier, book, boss, bug, chained, clean, cold, column, columns, comprehend, comprehending, compress, correct, desk, devastation, dictionary, disaster, dog, double, drove, edit, editing, enter, entire, error, errors, exaggerate, exaggeration, explode, faint, fast, favorite, favorites, figuratively, format, friends, Funny, genetic, grammar, grammar police, grammarian, grammarians, grammatical, happen, happened, head, history, humankind, Humor, humour, hyperbole, i'm so hungry i could eat a horse, i'm so hungry i could literally eat a horse, incorrect, inherit, inherited, insight, it's, It's the End of the World as We Know It, itself, key, laughs, lesson, lever, library, life, limits, listen, literally, loath, loathed, Maryland, Merriam Webster, Michele Wojciechowski, Michele Wojo, Mom, monthly, negative, negatives, newsletter, occurred, over the edgs, pen, perfect, perfectly, police, real, really, report, return, run on sentence, run on sentences, sentence, shenanigans, sound, stat, stuff, title, truly, twice monthly, typewriter, William Faulkner, willy nilly, wojo, Wojo's World, Wojo's World. humor, wondering, working, writer, wrong | 1 Response
By Michele Wojciechowski on July 31, 2014
If you've ever been on the internet for any length of time like say, oh five minutes or so, then you know what it is full of… Lots of amazing information, beautiful photos, fun facts, thought-provoking material, and videos of every kind that you could ever imagine. Yeah, that's exactly what I was going to […]
Posted in Columns | Tagged access, accident, account, address, advocate, Africa, alley, amazed, amazing, another language, April, assist, away, Baltimore, Baltimore Maryland, Baltimore MD, bar, bar bet, barrister, Beautiful, bed, bet, book, bowling, bridge, bucks, butt, car, child, claim, client, Col. Potter, colonel, Colonel Potter, comedy, contact, contest, counsel, creative, debunk, debunked, die, distribution, documents, dollars, dupa, email, embassy, engineer, expressway, facts, family, fight, fights, fist, fun, Funny, google, grandmother, grave, Gregory, hockey, home, horse, Humor, humor book, humour, imagine, information, internet, killed, kindergarten, kiss, land, language, leave, legal, legend, lie, lies, life, lottery, love, maiden, married, Maryland, mash, material, Michele Wojciechowski, Michele Wojo, million, money, name, Nigeria, Nigerians, office, passed, passed away, personal, photo, photos, phrase, phrases, Polish, potter, private, provoking, question, questions, reader, relative, resource, resources, rich, scam, scamming, Scamming me in another language, scams, show, Snopes, Snopes.com, spam, spammer, spammers, speak, swamp, swampland, taught, thought, Togo, Translate, TV, U.S., United States, urban, US, useful, value, valued, Video, videos, Walla Walla Washington, West, wife, wojo, Wojo's World, Wojo's World. humor, won, word, words, world wide web
By Michele Wojciechowski on June 9, 2014
I will be holding a book signing event at The Village Gem in Perry Hall (Nottingham) MD on Saturday, June 21st from 12 noon to 4 pm. I will be selling and signing copies of my national award-winning humor book "Next Time I Move, They'll Carry Me Out in a Box." "Next Time I Move, […]
Posted in Book News, Events, Wojo In The News | Tagged appearance, appearances, Award, award winning, Baltimore, Baltimore Maryland, Baltimore MD, book, book signing, books, Center, close, comedy, craziest, crazy, Funny, funny bone, funny bones, hell, hilarious, house, Humor, humour, husband, June, June 21, Maryland, meet the author, Michele Wojciechowski, Michele Wojo, move, national, Next Time I Move They'll Carry Me Out in a Box, Next Time I Move They'll Carry Me Out in a Box book, Nottingham, Perry Hall, Perry Hall Square, sanity, Saturday, Saturday June 21, second, shopping, tale, Village Gem, war, winning, wojo, Wojo's World, Wojo's World. humor | 1 Response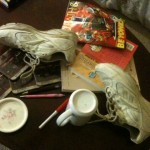 By Michele Wojciechowski on June 4, 2014
As you can tell by past posts, Riley is an, um, unusual puppy. And just one of the different and cute things he does is that he plays Santa year 'round with my stepdad. How does he do this? Well, for some reason unknown to us, Riley loves to carry items from throughout the house […]
Posted in My Life With Riley | Tagged $20 bill, ad, advertising circular, Baltimore, Baltimore Maryland, Baltimore MD, beef, bill, blanket, book, caffeine, ceramic coffee mug, ceramic mug, chew, Christmas, christmas ornament, coasters, coffee mug, comedy, consignment shop, couch, couch pillows, coupons, cute, decorative fan, decorative victorian fan, dog, dogs, Funny, gift, gifts, grande, grandpa, Holiday, holy grail, house, Humor, humour, jerky, kitchen table, latte, living room, living room table, Michele Wojciechowski, Michele Wojo, mocha, money, My Life With Riley, Our Own Little Furry Santa, pens, pillows, play santa, presents, Puppy, recipes, Riley, Santa, scissors, screwdriver, shoes, sneaky, step father, stepdad, stepfather, twenty dollar bill, victorian fan, wojo, Wojo's World, Wojo's World. humor | 1 Response