You've reached the home of one of the funniest humor columns in the stratosphere, as well as the website of me, its humble writer.
If you need a good laugh, you've come to the right place.
It's a place where I mistake groundhogs for beavers (I'm a born-and-raised City girl, what do you expect?), where we accidentally call 911 instead of 411, and where my husband is always fighting a war against our squirrels.
In short, it's a lot of fun.
Come on in!  I'm glad to have you here.
Check out my most recent column and some oldies as well.
One thing I guarantee–you'll find yourself laughing and will come back for more.
Because Wojo's World® is Where Life is Always Funny…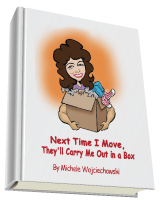 My National Award-Winning Humor Book!
What's it about? Where can I find a copy?